Figures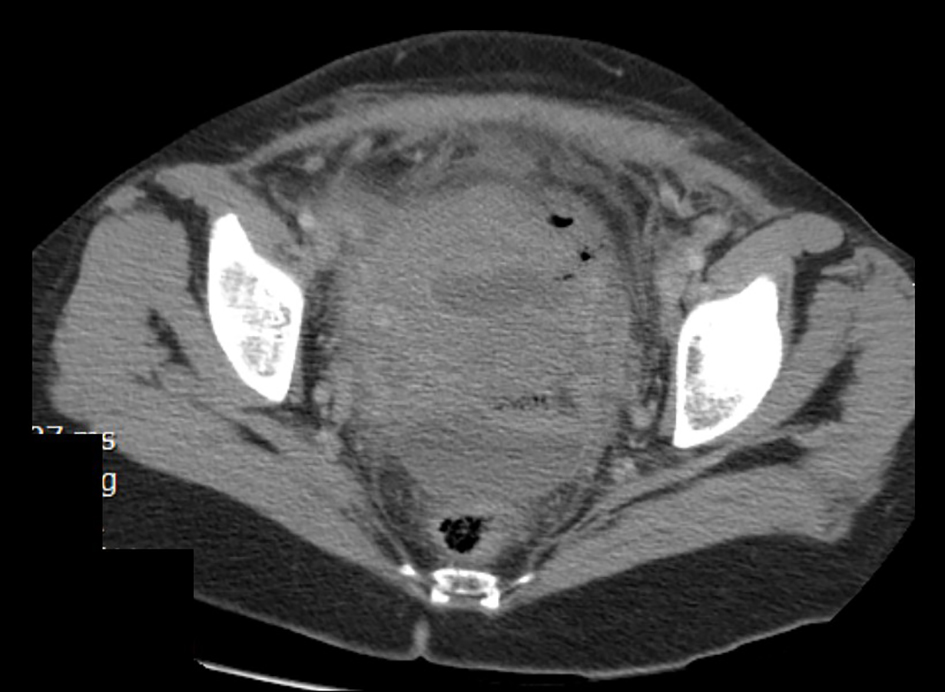 Figure 1. CT scan of the abdomen and pelvis with intravenous and oral contrast showing an intramyometrial gas formation, a collection of 5 × 3 × 3 cm anterior to the uterine scar and a second collection of 5 × 4 × 3 cm in the Douglas pouch.
Figure 2. Exploratory laparotomy. (a) Ruptured uterine scar and infected necrotic edges. (b) Debridement of the uterine scar edges.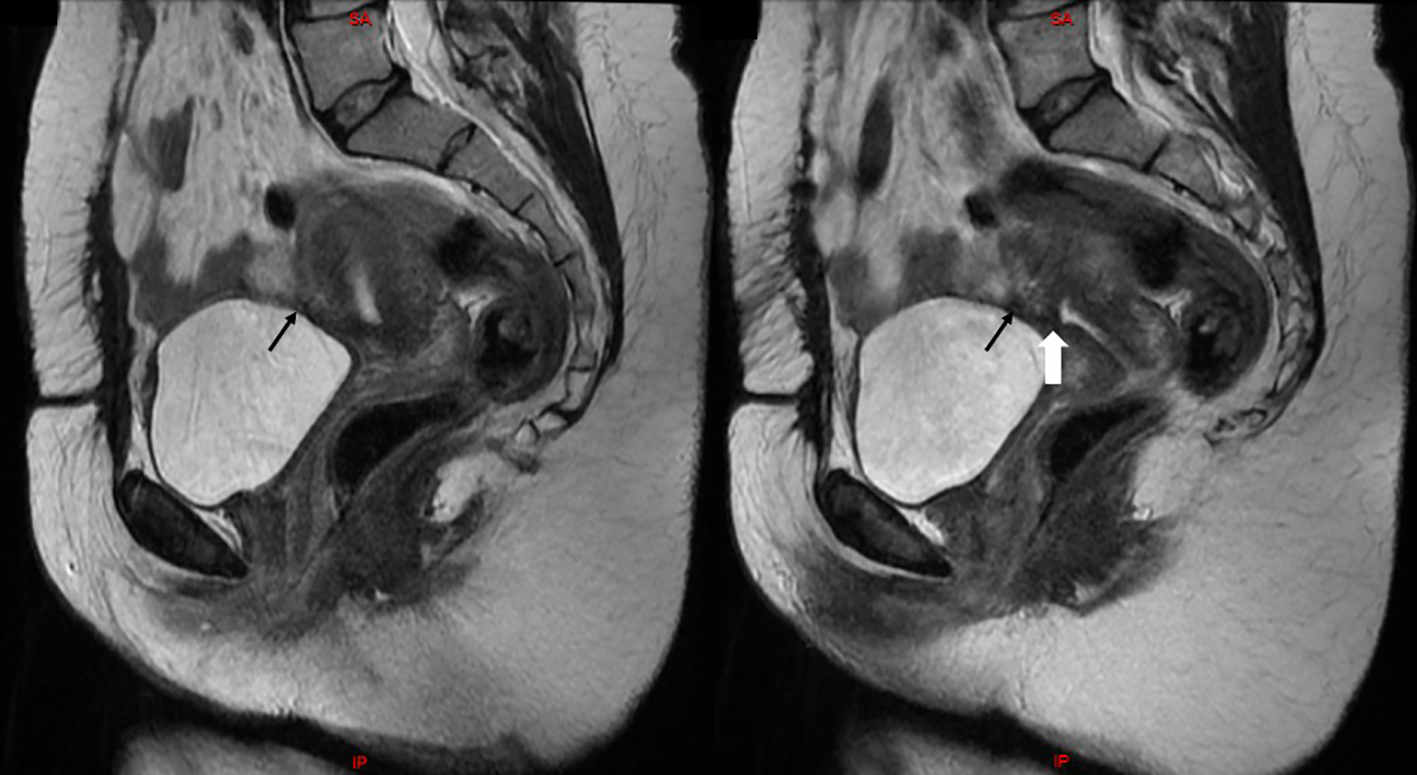 Figure 3. Two consecutive sagittal views on T2-weighted MRI of the pelvis showing an intact uterine serosa (black arrows), a normal endometrial thickness and a small indentation at the level of the uterine scar (white arrow).
Table
Table 1. The Presentation and the Outcome of 23 Patients Having Infected Uterine Incisional Necrosis and Dehiscence Found in the English Literature

Case
Presentation
Onset of symptoms after delivery
Hysterectomy
Culture
NA: not available.
1 [3]
Wound infection; fever
15 days
Yes
NA
2 [4]
Fever
2 days
No
Escherichia coli
3 [5]
Wound infection; fever
7 days
No
Staphylococcus aureus
4 [6]
Vaginal discharge
15 days
Yes
NA
5 [7]
Abdominal pain; fever
9 days
Yes
Escherichia coli
6 [8]
Heavy vaginal bleeding
10 weeks
Yes
Escherichia coli
7 [9]
Abdominal wall dehiscence
3 days
No
Streptococcus anginosus
8 [10]
Abdominal pain; fever
15 days
No
NA
9 [11]
Abdominal pain; fever
8 weeks
No
Staphylococcus aureus
10 [12]
Heavy vaginal bleeding
6 weeks
Yes
NA
11 [13]
Heavy vaginal bleeding
11 days
No
Corynebacterium sp, Prebotella bivia
12 [14]
Wound infection; vomiting
6 days
No
Staphylococcus, Enterococci
13 [14]
Abdominal pain; fever; vomiting
10 weeks
No
Escherichia coli
14 [14]
Wound infection; fever; nausea
12 days
Yes
Staphylococcus aureus
15 [15]
Abdominal pain; fever
3 days
Yes
NA
16 [15]
Abdominal pain; fever
3 days
Yes
NA
17 [15]
Abdominal pain; fever
3 days
Yes
NA
18 [15]
Abdominal wall dehiscence
5 days
Yes
NA
19 [15]
Heavy vaginal bleeding
6 weeks
Yes
NA
20 [16]
Abdominal pain; vomiting
8 weeks
No
NA
21 [17]
Abdominal pain
5 days
Yes
Pseudomonas aeruginosa, Staphylococcus, Citrobacter roseri
22 [18]
Heavy vaginal bleeding; fever
14 days
Yes
NA
23 [19]
Heavy vaginal bleeding
6 weeks
Yes
NA
The present case
Abdominal pain; fever
10 days
No
Proteus mirabilis